PAST PUPPIES
Our Australian Labradoodle PUPPIES are a blessing....just read and see!
See what a few of our past puppy buyers have to say about us and our puppies - we have a growing list of raving references!
I could not have asked for a happier, more fun-spirited puppy from Blue Ridge Labradoodles. It was evident upon Skylie's arrival that she was well-accustomed to love, cuddles, being touched and affection. That was one of my greatest priorities when looking for a breeder. As soon as Skylie got off the plane at Newark Airport in November 2014, she wanted to snuggle into my neck. This little girl is loved by everyone and is such an important part of our family! Her happy soul brings endless smiles to others and I know that it's because of the excellent beginning she had at BRL. ~ Lauren Huston
Our past puppies are so happy and love to get together.
Here is a group that has met up in the Northeast.
Boomer - Daisy/Romeo 2013
The Christmas training program at Blue Ridge Labradoodles is worth every penny. Definitely a top notch program. Our dog Boomer came to us Christmas 2013. He flew into Houston December 23rd and slept like a champ all night in his kennel! No whining or barking. He came to us kennel trained and paper trained for potty time. They leash trained him as well as teaching him to sit and come on command when called by name. He is a very social dog. Loves all animals and kids of all ages. The breeders/trainers do a fantastic job socializing their animals. ~ Niki in TX
peaches - Carley/Romeo 2014
Jeana, Just dropping you a line to thank you again for our Peaches. She is two today and the sweetest, most playful girl. She loves endless snuggles as much as she loves her extensive collection of tennis balls. She is so cute I frequently get stopped when we are walking to ask what kind of dog she is. Hope you and your family are well!
Kindest regards,
Lauren & Mike in NC
Hi Jeana, I hope this email finds you well! I just wanted to share with you that Kieran and Wyatt are doing great together. They have similar personalities and couldn't have been more perfectly matched! We entered them in Atlanta Magazine's best Atlanta pet contest and they were one of the finalists!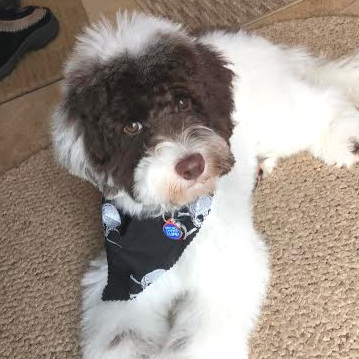 Chester - Izzy/romeo 2018
Hi! Debbie did a wonderful job during the two weeks Chester spent in training with her. He is super sweet, smart, was an amazing passenger on the long ride home, totally potties outside, walks on his leash like a pro (even after he started off with Debbie pulling backwards), and best of all...he gives kisses galore! Thanks for helping us make this happen. ~ Sandy
psyche - jazzmine/geo 2015
We are absolutely in LOVE. We named Joy, "Psyche" (well, Santa did :) and she comes to work with me every day. We hope that she eventually becomes a certified therapy dog. :)
She is absolutely gorgeous (as you can see) and the kids adore her. Her demeanor is so pleasant and she is super easy to train. My husband walks her and the kids to school (1.3 miles each way!) every day; we comment almost every day how lucky we are to have her…I never knew what a dog could do to you! ~ Cheri
reilly - jayla/romeo 2012
As a very active family, we didn't need a laid back dog, we REQUIRED it. Well, Blue Ridge Labradoodles delivered! Reilly Finnegan is brilliant and adorable. He was easily crate trained and is unbelievably calm. He is way more relaxed than our 8 year old goldendoodle. He fits our family like a glove and we couldn't be more pleased. Rest assured, Jeana will help you choose the right puppy to fit your lifestyle.
The Brennan Family
"This is Scout .... He is the best dog ever!!" ~ NC
Rocky is great with our boys, 9 and 7, he LOVES to go on walks. His favorite thing to do is sprint between packs of hikers. He ends up going at least 5 times the distance of everyone else! He LOVES his sleep and will not get up until the last family member is up for the morning. He also has recently figured out how to fall asleep first with the boys and then switch to our room when we go to sleep. The cutest thing he did recently was find his leash, pull it off the table and drop it at my feet so that I would take him on a walk! We get compliments on how cute he is nearly every day.
Attached are a few pictures of Frosty. We are very blessed to have this little piece of sunshine in our lives - Thank You. It is hard to believe that he has been part of our family for 6 months already, and we seem to love him more each day. He is such a fabulous little guy – fun, adorable and affectionate, and indeed, we have much to learn from his bright and joyful nature. Thank you again for making this possible!
We are so in love with Aqua. He is so precious and smart. He gets more beautiful every day and makes everyone who sees him smile. He's a total show stopper with the biggest heart. He's my Velcro! ~ Jacqueline
Thought I would share a photo of Draper. He is the BEST puppy EVER! Draper is smart, so loving and so friendly to everyone. He is perfect for us!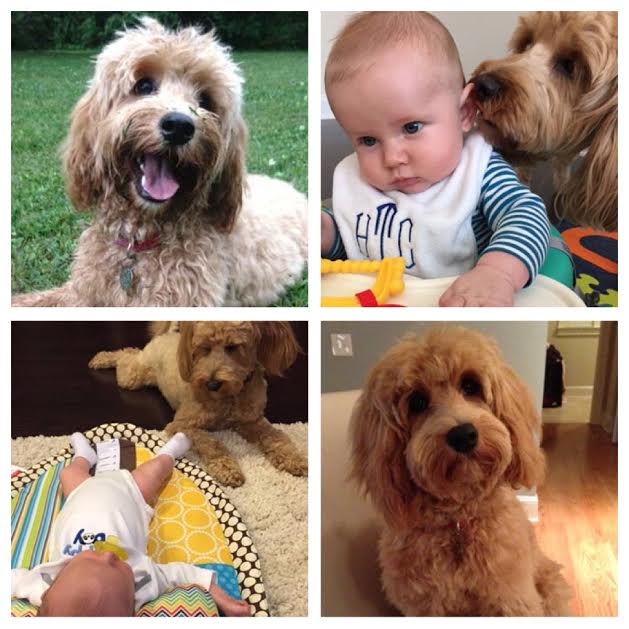 Hope all is going great with you and your family! I have been referring you lately to a few friends who are looking for a dog and love our Mason.
We welcomed our first child in October, the same month Mason turned 2, and they are best friends already. Thought I would send you a picture. Thank you again for our wonderful baby girl.
Just want to let you know how Riley is doing. He is our bundle of fur, so cute and smart. Getting along well with his brother Rupert. Almost 5 months old now and he lost 4 of his teeth this past week. Everywhere we go everyone stops us to ask what kind of breed he is and says that he is so cute and adorable. Everyone loves his eye color. He is gorgeous and we think he looks like his Dad, Romeo. Thank you for picking Riley for us! He is just perfect! ~ Lucy
benny - fallon/romeo 2018
The best words to describe Benny are joyful and easygoing. We couldn't have picked a better lifelong best friend for our first dog, Eli! They are inseparable, and they love cuddling, wrestling, chasing each other and playing tug-a-war. Also, the training program is fantastic! Benny was already trained to sleep through the night quietly in his crate and walked perfectly on a leash! He also knew his basic commands and was close to being potty-trained (he had very few accidents)! It was evident that Benny received lots of attention and was well loved and socialized. We cannot imagine our lives without Benny, and we are very blessed to call him ours! ~ Kathleen, Andrew and Eli from Birmingham, Alabama
Our girls wanted to let you know that Boomer is doing well and growing fast. He is 11 pounds now and is such a good boy! He's got the potty training down and the girls are always teaching him a new command. He has been the perfect addition to our family! He has a perfect temperament!
phelps - carley/brooks 2015
Just wanted to let you know that Phelps (FKA Loyal) is doing quite well. We are all in love with him! Thank you for allowing us to welcome him into our family. ~ Ashley
When Bella arrived, it was love at first sight! She cuddled up and gave me a million kisses. She has become my shadow. And the love of my life! She has yet to meet a person or animal that she hasn't showered with kisses! My vet says she is very healthy, and he kisses her ever times he sees her! He said I got a wonderful dog! Thank you, Blue Ridge, for making me a very, very happy dog owner. ~ Lyn
Millie is a dream come true! She has been the perfect addition for our family and has brought so much joy into our lives. We enjoy watching her grow and didn't realize how much we needed her! She steals the show wherever we go and we love having so many fellow Blue Ridge puppies in our home town. Highly recommend Blue Ridge Labradoodles for anyone looking for a family pet, you will not be disappointed!!! We love our girl so much- Christine and Cayton from Biloxi, MS
Jack loves to go on a walk everyday around our neighborhood and he also enjoys riding in the car to take our daughter to school and to pick her up. His favorite toy is a squeaky tennis ball and he is very good at playing fetch! Jack knows how to sit, stay, walk on a leash and he also learned how to dance on his hind legs which is pretty funny! He was potty trained very young, probably by 10 weeks old. He learned how to ring a bell at the door to let us know whenever he needed to go outside! Jack gets lots of comments from people who think he looks like a teddy bear. He is friendly to everyone and has been a great addition to our family! ~ Ashland